Gourmet Coffee Station
Love Is Brewing With Us
Your wedding day is a celebration of your love. You want your guests to feel the warmth of your love, that's where we come in!
Our wedding coffee station includes gourmet light, medium, dark, or decaf coffee with an array of delicious toppings like homemade chocolate spoons, crystal sugar, spices, flavored syrups, marshmallows and more. Our coffee station is a unique touch that your guests will be talking about long after the reception. Reach out to us for more details at: www.willowscoffee.com
Make it memorable!
We understand the number of details that go into making your day special are endless. We are here to help create a memorable and beautiful experience for your guests.
Our coffee station includes everything you'll need to exceed your guests' beverage expectations. With a variety of roasts, an assortment of toppings, and an elegant display, your guests will enjoy the specialty Costa Rican coffee experience to the fullest.
Celebrate your special day with Willows Coffee
Our unique coffee station brings elegance, comfort, and joy to you and your guests on your big day!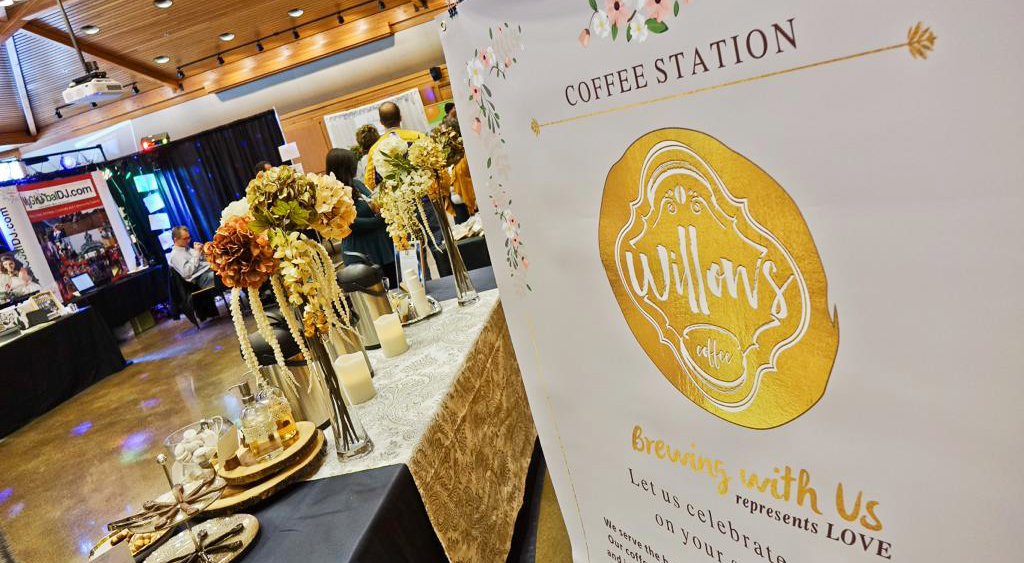 The Silver Cup
30-50 people
The Gold Cup
60-80 people
The Platinum Cup
100-150 people
Testimonials
"The set up was gorgeous
and our guests loved the pick-me-up which came with flavor shots, toppings, and cute chocolate spoons. Above all, they were professional, gracious, and personable. They took such good care of us and our loved ones."
-Yen N.
"I would highly recommend Willows Coffee
for any type event but especially for a wedding! …we were blown away by the level of service, gorgeous display, and flavorful coffee – YUM! It was wonderful to have a tasty gourmet beverage that didn't involve alcohol at the wedding. … People were commenting all night how much they enjoyed making each drink with the different ingredients and having a new coffee beverage each time they were up to the table."
-Ivy N.
Whether it's a wedding or a corporate event,
 Our catering services offer a memorable experience! We serve gourmet coffee from our family farm in Costa Rica. Our century-old farm is committed to growing quality
coffee beans and maintaining a sustainable and healthy environment. Our coffee is hand picked which lends a fantastic sweetness and juiciness to an already lively gourmet of certified coffee.

Private Events & Corporate
No event is too big or small for our coffee catering services! Coffee is a must at banquets and events. We provide everything needed to make your event a memorable experience. We work directly with you to tailor the menu to your liking.
Pickup and delivery options are available. Contact us for Packages & Pricing at: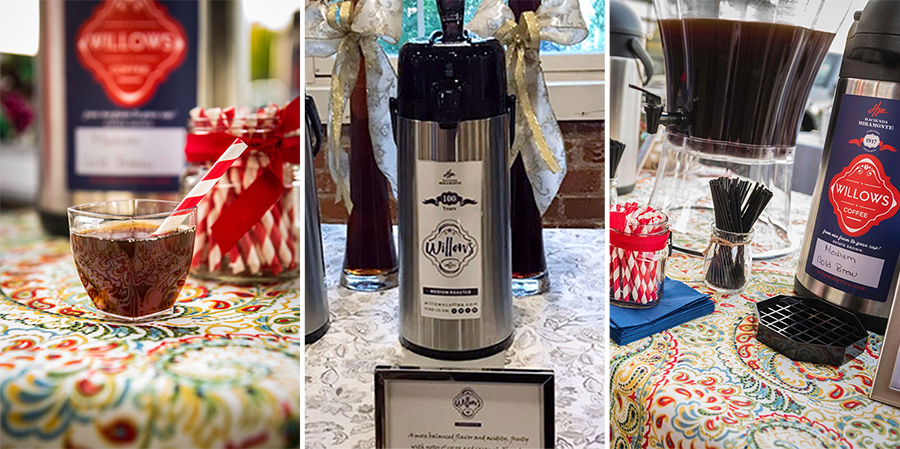 Gifts
Custom gift boxes and baskets are our specialties!
Our custom gifts range from small boxes to large baskets that include bags of our specialty coffee, treats, and coffee brewing equipment and accessories. Customizations to create your perfect gift basket are available.
Try it for Free!
Step into a world of coffee perfection at our enchanting Gourmet Coffee Station. Immerse yourself in the captivating flavors and aromatic wonders of specialty brews. We are passionate about good coffee and have been for over 100 years! Our family farm in Costa Rica has been producing specialty coffee for over a century. We continue to refine our coffee growing and processing techniques  as only a family-run business can to bring coffee of uncompromising quality and flavor to the world.
Partnering with us means you can rest assured that the coffee you are serving is as carefully crafted as everything else on your menu. From our farm to your table.
Why Partner with Willows Coffee?
Interested in putting Willows Coffee on your menu? Contact us today to get a free sample of our coffee and learn more about serving our coffee free for a day.
You know you serve great food, and your customers have come to expect it… but what about your coffee? You are dedicated to creating delicious food of the highest quality and it should not be served with any old cup-o'-joe! Something that special should be paired with coffee that is produced with the same care and attention to detail.
"Your passion for food goes hand-in-hand with our passion for coffee. Get in touch with us today to learn more about serving Willows Coffee and try some free samples. Plus, we are so sure you and your customers will love it that we will arrange to serve our coffee free for a day!"