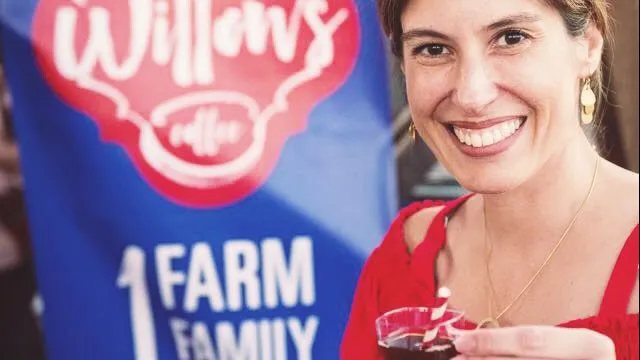 She knows where Willows Coffee beans come from. Her family's farm in Costa Rica
Coffee and knowing where it's sourced is as popular as ever. We're fans of Woodbury-based Willows Coffee, with its Arabica varieties out of Costa Rica, offering hints of citrus, cocoa, caramel and more.
We chatted with Viviana Guardian, 41, owner of Willows Coffee (willowscoffee.com) and a fifth-generation coffee producer of her family's coffee farm in Costa Rica's Central Valley.
What did you want to be when you grew up? When I was young, I never thought it would be related to coffee. I actually studied advertising and marketing in college.
What was your first job in food? I grew up on my family's coffee farm in Costa Rica. My dad has this great farm and delivered as much coffee as he could. The coffee industry started changing and people wanted to learn more about where their coffee came from. So it made total sense with my career background to help with that.
My dad is the fourth-generation owner of the farm, called Hacienda Miramonte. I take care of sales in the United States and work on certifications like the Rainforest Alliance and fair-trade labeling.
I'm the second woman in my family to be an owner of the business after my great-great-grandmother Lucila Morales. In between the first and fifth generation, it's been only males running the business, which is the norm. It's nice but at the same time, it's hard.
How did you wind up in the food business for good? My husband works for 3M, and because of his job, we moved to Minnesota three years ago. I started Willows Coffee to become a distributor and be part of the coffee world every day since we moved to Minnesota. The purpose of starting this business is to give the customers the farm-to-cup experience, so people can learn about the process of the coffee they are buying. I started doing online sales of my family's coffee last November. Now we're online and we're at farmers' markets — Minnetonka (Tuesdays), Maple Grove (Thursdays), Stillwater (Saturdays) and Scandia (Wednesdays). I do weddings and events, too. What I'm trying to do with Willows in the United States is teach people what good coffee can taste like.
We have three different roasts (light, medium and dark) and we offer whole bean or ground at $15 per pound. We don't have decaf because we don't do any processing. The coffee comes from the farm to your cup. To get a decaf, we would have to go through a third party.
If you had to eat or drink only five things for the rest of your life, what would they be? Of course, coffee. Italian food. I love pastries. I love salads. And to drink, I love Arnold Palmer.
What's next?  I'm working with a caterer to offer Willows at events. I've been talking with a restaurant and hopefully I can start serving and selling it there and hopefully get into more restaurants and small stores. In the winter, I'd like to do delivery door to door here in the Woodbury and Stillwater area.